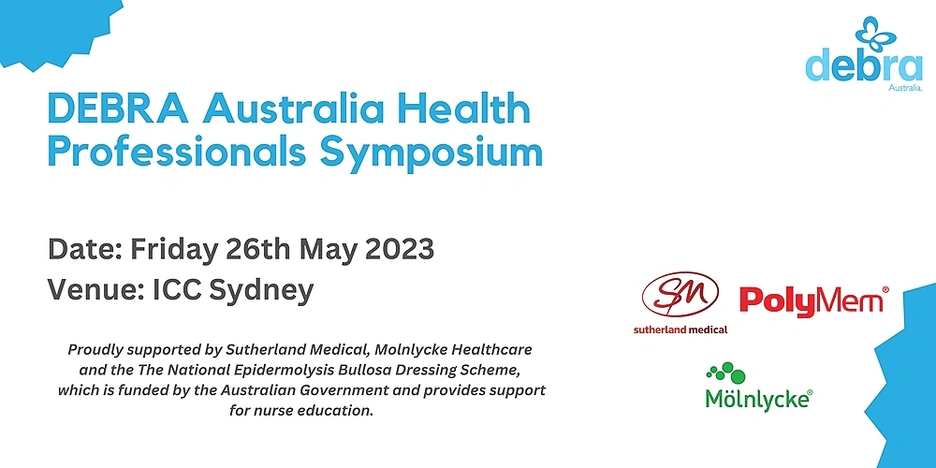 DEBRA Australia is proud to be hosting the this event which will showcase a variety of keynote speakers from various fields relating to Epidermolysis Bullosa (EB).
Lunch and afternoon tea will be provided
There will be trade displays present with new and updated products relevant to EB care
The health and safety of all guests attending this event including exhibitors is of utmost importance. By registering to attend you acknowledge that COVID rules and requirements may change at any time in accordance with the latest health advice from the Australian and NSW Government.  You also acknowledge that DEBRA Australia has taken all care and consideration to carry out a COVID Safe event. 
Guests Speakers include: 
A/Prof Irene Lara-Corrales – CGP for diagnosis and management of Anaemia in EB
Professor Dedee Murrell – Clinical update on Topical Therapies in EB
Sharon Cassidy (EB CNC NZ) – Management of infection in EB
A/Prof Jonathon Arnold – Pain management in EB
Prof Johannes Kern – Update on the Oleogel EASE trials
Dr Chris Turner – Role of granzymes in Itch and EB
Andrew Gorrie (Senior Physiotherapist) – Gross motor development in children with EB
Dr Albert Mellick – Novel markers of skin cancer in RDEB
Dr Nicholas Veldhuis – Characterising pain pathways in new mouse model of DEB
Dr Zlatko Kopecki – Antimicrobial Photodynamic Therapy for EB
Dr Susan Robertson – Squamous Cell Carcinoma in EB
Lauren Weston (EB CNC) – Multidisciplinary care of EB patients
Rebecca Saad (EB CNC) – National EB Dressing Scheme Update
Mental Health and Resilience for Health Professionals working with EB
Continuing Professional Development 5.5 hours (certificates will be emailed post the event)